The
artwork
for last year's Status Quo album -
In Search Of The Fourth Chord
- inspired me to compile a list of - in my opinion - the greatest Quo album covers of all-time. They all have something in their favour of course, so I had a tough job. However, after digesting, deliberating and cogitating the evidence (as Loyd Grosman used to say on
Masterchef
), I came up with the final ten (and a couple of leftovers). Here they are in chronological order: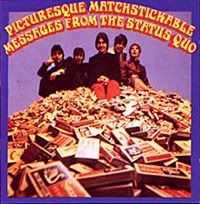 Picturesque Matchstickable Messages From The Status Quo (1968)
This is where it all began. Let's face it, there's no better way to signal your arrival onto the music scene than by sitting on top of a giant pile of Swan matches. We've also got a rare appearance from Roy Lynes before he got off the train at Crewe and never returned, plus John Coghlan in the first of a long series of photoshoots where he looks thoroughly pissed off. As if that wasn't enough, Francis Rossi is wearing the brightest pair of red trousers I've ever seen and there's an opportunity to see Baby Alan Lancaster - the hard rock sound hadn't arrived yet, so he couldn't possibly call himself manly at this point. As an added bonus, there's a black and white photograph on the reverse that looks like it was taken in Victorian times (Rossi's moustache makes him look like some sort of railroad tycoon) and Ronnie Scott even lends a hand by speculating that "this will be the first in a long line of international hits for The Status Quo." He must have been basing his (absolutely correct) opinion on this spectacular piece of artwork because
Paradise Flat
was never going to take the world by storm. It's way too creepy for starters.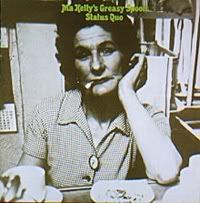 Ma Kelly's Greasy Spoon (1970)
Now you're talking. The arrival of the classic Quo sound is signalled by an old woman sitting at a desk and smoking a fag. She obviously attended the John Coghlan school of modelling because she looks thoroughly pissed off. But then she's got every right to be, I suppose. This was Britain in 1970. The Beatles had just split up and Quo's second album
Spare Parts
had been a flop. Plus her cup of tea had gone cold because the photographer was obsessed with getting the lighting just right. Cheer up love! This album's got
Shy Fly
and
(April) Spring, Summer And Wednesdays
on it - Alan Lancaster can finally face his family!
Dog Of Two Head (1971)
Any album that begins with a masterpiece like
Umleitung
needs to have a special cover. This more than lives up to it. It's a bulldog with two heads (with a painting of Windsor Castle in the background). Could Quo BE any more British? You'd be correct in thinking that this is the reason I'm now scared of dogs, although I do like the way that all four members of the band seem to be heading in the dog's direction like some sort of four-pronged meteor attack. I believe that the drug-taking may have begun by this point.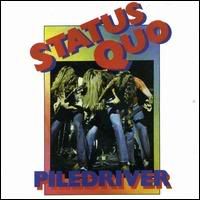 Piledriver (1972)
Genuinely one of the greatest rock album covers of all time. Quo had found their style and had a pose to go with it - side by side, legs apart, heads down, it really doesn't get better than that. Actually it does. Turn the gatefold over and you're faced with a picture of a gorilla sitting on a rocket. A
gorilla
on a
rocket
?! Nothing says hard rock better than that (except the fantastic solo from
Big Fat Mama
).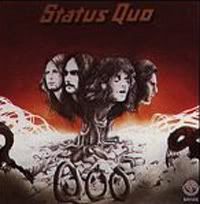 Quo (1974)
"Help me, mother!" I cried, as I studied this album cover on the way home from a record fair. "Alan Lancaster's head is growing out of a tree!" She offered little comfort and I was traumatised for life. Even now, I'm still creeped out by the way that the roots spell "Quo." I take some solace from the fact that Rick and Francis don't look too convinced and, in comparison to previous shoots, Coghlan is positively grinning. It's a blinder of an album though, kicking off with
Backwater
and ending with
Slow Train
- just a shame it lasts little more than half an hour.
On The Level (1975)
It might not be very manly for me to say so (sorry Alan), but Francis Rossi's hair has never looked better. Who would have thought that it would all fall out within thirty years while Rick stands by saying "haha, I've still got my curly blonde locks
and
I've had quadruple heart bypass surgery!" I always wanted hair like Francis when I was a teenager. Unfortunately, when I tried to grow it, I ended up looking more like Ruth Madoc from
Hi-De-Hi
. I can laugh about it now but at the time it was terrible. Anyway, this is probably
just
my favourite Status Quo album. It's got all the classics -
Down Down
,
Little Lady
,
Bye Bye Johnny
- plus a football crowd singing
You'll Never Walk Alone
in the run-out groove. No wonder John Coghlan is looking a bit awkward - he obviously knew that it would be a tough act to follow. But more importantly, what is Alan Lancaster hiding in his clasped hands?!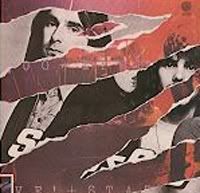 Live! (1977)
"Is there anybody out there who wants to rock?!" shouts the MC. "Is there anybody out there who wants to roll?" he repeats. "Is there anybody out there who wants to BOOGIE?" he yells. That's all well and good (the answer is "yes" to all three, by the way) but I've got some questions: "Is there anybody out there who wants to see John Coghlan wearing some kind of tooth around his neck (and looking pissed off) on the inner sleeve?", "Is there anybody out there who wants to see Alan Lancaster (gasp) smiling?!" and finally "Is there anybody out there who wants an album where the sleeve is half live footage, half photoshoot and you can't actually tell what the bloody thing is called?!" All those questions were asked at the actual show, but they had to edit them out in order to fit a fourteen minute version of
Roadhouse Blues
onto side two. It's a great concert though, especially when Rossi starts mumbling something about the balcony starting to collapse - I do hope everybody made it home safely.
Rockin' All Over The World (1977)
By this point, Quo are such hard rockers that they've caused an earthquake which reverberates around the world. Honestly, this cover has the proof. According to the readout at the bottom of the picture, Quo measured 7.5 on the Richter Scale. That's nearly twice as strong as
the tremor that hit Kent last year
. That's what happens when Lancaster starts pounding away at
You Don't Own Me
. It's not global warming causing the world's freak weather - it's Quo! I've heard that the government are trying to force everybody to offset their Quo emissions. Every time you play
Rockin' All Over The World
, you have to cancel it out with James Blunt. Hmm, I think I'd rather take my chances.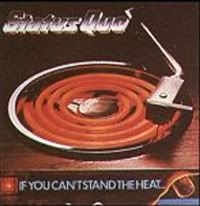 If You Can't Stand The Heat (1978)
Do you see what they've done? They've taken the well known phrase "if you can't stand the heat, get out of the kitchen" and turned an electric hob into a long playing record! Ingenious! Plus, when you open the gatefold, it looks like a giant book of matches! Wowzers.
Under The Influence (1999)
Fast forward twenty years and the Quo have settled into middle age in the time-honoured tradition - they've opened a pub. At least, that's what this album cover implies. "I'm just popping down the
Under The Influence
for a swift half, love - don't wait up, they've got Jeff Rich on bar duty and he insists on doing a ten minute drum solo between each customer!"
Almost But Not Quite There
A selection of Quo album covers that didn't quite make the cut:
Blue For You (1975)
Talk about taking things literally. You need to look at this through filtered glasses to stop yourself going blue-blind. All four members of the Quo are dressed head to toe in denim. I think they may have been sponsoring a well-known jeans company by this point.
Famous In The Last Century (2000)
Or, Quo attempt a tribute to the
Sgt. Pepper
cover but give up halfway through. Still, you have to applaud the effort - there's Elvis, Groucho Marx, John Lennon, Marilyn Monroe and Her Majesty The Queen (but we all know that
she prefers The Who
). You'll notice Rick laughing and pointing at somebody down below - that's the same reaction that LH's father received when he attempted to buy the cassette version of this album at his local Asda. Kids today, eh?
Heavy Traffic (2002)
What the hell is going on here?! Quo being chased down a London street by an elephant that is bigger than any of the buildings?! No wonder Rick had a heart attack! It's good to see that Rossi's waistcoat remains in pristine condition throughout though, but I'm a little worried that John "Rhino" Edwards is about to trip over some police tape and (surely not) Andy Bown is about to get squished like a bug. Who's going to play the intro to
Rockin' All Over The World
now?! They clearly didn't think this through. One of the better albums in recent years though. They say that fear inspires you and there's surely no greater example than a thirty-foot elephant.
XS All Areas - Greatest Hits (2004)
There aren't many album covers where one guitarist looks constipated and the other looks like the scary mask from the
Scream
movies, but Francis and Rick pull it off in style. Yes, Quo have still got it in abundance.