I first remember liking a bit of boogie-woogie rock when I was about five. I saw a live performance of Status Quo singing
Rockin' All Over The World
and
Caroline
which made me bounce around the room. Looking back, it's quite likely that it was their Live Aid performance in the summer of 1985. Anyway, as luck would have it, my cousin N was (and still is) a huge Status Quo fan. He used to spoil me rotten when I was little. He was in the Army and would bring back loads of toys from his travels - little Nintendo
Game & Watch
games from Germany for example, or walkie talkies from Northern Ireland. However, the best gift that he ever gave me was the triple-vinyl boxed set of Quo's
From The Makers Of...
For years, I only ever listened to the third disc. It was an early '80s live recording from Birmingham's NEC in honour of the Prince's Trust. It was a greatest hits show, but I only ever listened to the two songs that I knew -
Rockin' All Over The World
and
Caroline
. This was the case for months, if not years. I would sit in my room playing air guitar along to my little record player. Quite cute really.
As I got older and
really
discovered music, I wanted to hear more of what Quo had to offer. That's how I found myself doing the unthinkable - putting the needle at the start of the record rather than frantically searching for the groove halfway through (it signalled the keyboard introduction to
Rockin' All Over The World
). Soon I discovered that every song was brilliant -
Roll Over Lay Down
,
Over The Edge
and
Don't Waste My Time
in particular - and I was soon ripping the other discs out of their protective cases and discovering more and more songs from the back catalogue.
From The Makers Of...
came with detailed inlay leaflets that told the life story of the band. I remember that the first line referred to Alan Lancaster as "Peckham's answer to Kenny Ball." I had no idea what that meant at the time, but I see now that the likeness is astounding.
All around the edge of one of the leaflets were pictures of every Quo album to date. It was then, aged nine or ten, that I decided to make it my life mission to own every single one of them. The process started slowly. The first album that I actually bought was another compilation -
Rocking All Over The Years
. It had many of the same songs on it as
From The Makers Of...
, but I didn't let that put me off. Firstly, because the first disc of
FTMO
had become warped (resulting in
Big Fat Mama
going from slow-motion to
Alvin And The Chipmunks
speed) and secondly, because I just couldn't resist that double-cassette package on the shelf of John Menzies. Anyway, it brought the Quo back catalogue up to date a little more and I was introduced to the post-Alan Lancaster period in style -
In The Army Now
,
Rollin' Home
and
Burning Bridges
were all present and correct (although perhaps not as manly as Al would have wished).
Slowly but surely, my collection increased - a copy of
Hello!
one Christmas,
Rock 'Til You Drop
for my birthday and even a couple of video compilations for Easter (which were packed with images of busty, brunette women (I particularly liked the girls in the video for
Ol' Rag Blues
). You could probably say that they have a lot to answer for...
By 1992 I had reached a dead-end. It was becoming increasingly difficult to find any more albums on cassette and I didn't have a CD player at that time. But just as I was getting tired of listening to the same half a dozen albums over and over, something happened that gave me the incentive to keep on trying.
Opening the
South Wales Echo
one day in June '92, I saw a full page advert for Status Quo's Christmas tour
and
they were coming to Cardiff. So far, I had not been lucky enough to see them live. However I had a huge thirst for it, having just seen snippets on television from their concert for Radio 1's twenty-fifth birthday in Birmingham. I hurriedly phoned my friend M to tell him the news (by that time, he had also developed a fondness for the mighty Quo and all band news had to be relayed to each other as it became available). We begged our parents to let us go, but as we were only twelve-years-old they were reluctant to let us attend. To quote my mother, "there might be druggies there."
However, after much gentle persuasion, my mother agreed to accompany us to the concert. She phoned the venue (the now-demolished Cardiff Ice Rink) to confirm that there were tickets left and went in next day to buy them. But then, disaster! The woman in the Box Office informed her that tickets had in fact sold out weeks ago. Well, my mother can be a feisty one when she wants to be and she didn't let that stop her. In a rage, she wrote to everybody- from the promoters to Garry Bushell, the television critic at
The Sun
newspaper. Surprisingly, it was Bushell - the least likely of all her options (and I still don't understand the logic behind it) - who came through in the end. The staff at the paper were so upset about her tale of two bitterly disappointed twelve-year-olds, that they sent complimentary tickets directly to our house. I don't think the smile left our faces for months. And that's why Bushell is fine by me. Even if he did make far too many episodes of
Bushell On The Box
.
M and I spent months preparing for the big night out. We watched the
Rock 'Til You Drop
video on repeat - even going so far as to repeatedly quote our favourite catchphrase: "I cannae believe it, I'm gonna see the Quo!" (these words were uttered by a Scottish man (could you not tell from my accent?) who actually changed his name by Deed Poll to Status Quo. Later in the video, you see him meeting the band. On the bus, Rick Parfitt shouts out, "Status just smacked me in the gob!").
We arrived at the Ice Rink at half past six and there was already a queue around the entire perimeter of the (also now demolished) Toys R Us store. The atmosphere was buzzing and it felt like an age before we were finally allowed into the arena. Once there, huge letters spelt out "Quo" across the stage. As the lights went down, we couldn't contain ourselves anymore and let out very girly screams. These were a little premature. Not understanding live concert etiquette, we didn't realise that a support band had to come on first. So, as we screamed "QUO-O-O-O-O!", a little known Hair Rock band called Firehouse took to the stage and gave us a look that could kill. I don't remember much about them, except for the fact that their drummer threw his sticks up into the air at any given opportunity. However, according to their
website
, they're still going strong - ah yes, I do remember them doing the song
Rock On The Radio
now.
When Quo finally arrived on stage, we almost collapsed. Finally! Our heroes performing our favourite songs. They opened with
Whatever You Want
and ended with the
Roadhouse Medley
(basically the entire
Live Alive Quo
album). The only disappointment was that they didn't play
Down Down
, one of my favourite songs. Oh, and we couldn't see keyboardist Andy Bown either because he was hidden behind a twenty-foot "O". However, our ringing ears were proof that a good night was had by all, and Francis and Rick even waved at us. As we clutched our official tour programmes outside, we couldn't have been more content. And we didn't meet one druggy.
The concert inspired a need to hear more. That Christmas, I received my first CD player and there was no stopping me. Regular trips were taken into Virgin Megastore in order to secure CDs such as
Picturesque Matchstickable Messages From The Status Quo
or
Dog Of Two Head
. However, with such a vast back catalogue, it was impossible to afford every single album and many of them had been deleted anyway. But I didn't give up. Instead, I discovered record fairs.
These days, you can download even the most hard-to-find track from various sources online. I think that this can often take the fun out of desperately rooting through dusty boxes in a tiny room at the back of St David's Hall, hoping that you'll find that single rare copy of
Spare Parts
, or a limited edition picture disc of
Come On You Reds
. This is how I finally completed my collection (yes, I even managed to get hold of the tin boxed-set version of
From The Makers Of...
). It took me a long time of course - I was still going to record fairs during my time as an undergraduate and it was only a couple of years ago that I finally got the last CD (
Blue For You
) required to complete the back catalogue (I now have everything twice - once on vinyl, once on CD. The vinyl never gets played and is only there for display purposes - particularly the very manly picture of Alan Lancaster that houses the second disc of 1976's
Status Quo Live
album). I take great pleasure in admiring over fifteen years of collecting though, and it's good to know that I rose to my childhood challenge.
I never really used to have a favourite member of Status Quo. It was only when I read the band's 1993 autobiography,
Just For The Record
that I learnt about their individual personalities. I loved the stories about past members, such as the time when original keyboardist Roy Lynes got off the train at Crewe and never came back. However, it was Lancaster who gave me the most laughs. Who can forget the time he punched an airport official in Vienna and got the band arrested and thrown into jail? (Which also provided a classic Parfitt quote - "Hey, something funny's going on in here!"). How can you not like a guy who refused to play bass on
Marguerita Time
because it wasn't "manly" enough? And best of all, this is the man who refused to fly back from Australia to appear in the
Rockin' All Over The World
video, forcing the band to rent out an inflatable Alan.
However, the
Just For The Record
book has a special place in my heart for another reason. After the 1992 tickets debacle, my mother wasted no time in buying tickets for the band's 1993 tour as soon as they went on sale. This time, M and I were permitted to go on our own. Yes, we felt like big men as we walked through the doors without any adult supervision (although we were wise enough to politely say "yes, Firehouse were fantastic last year" to a bunch of large men who were comparing them to 1993's support, Little Egypt. We didn't want any trouble, you see.) Even though the concert was superb once again (although they still didn't play
Down Down
), next day was even better.
When our tickets arrived for the '93 concert, they were accompanied by a flyer advertising a book signing session at Cardiff's Lear's Bookstore the day after the concert. Well of course, we had to go. Our parents arranged for us to have the day off school and we set off early that morning. We expected a large crowd to be present, but in fact we were the first ones there. It wasn't like that album signing in
This Is Spinal Tap
where nobody turned up though. No, we were so early that the band hadn't even arrived. However, we were allowed to start queueing and we felt immense pride as older Quo fans turned up expecting to be first in line, only to be beaten by two teenagers. How we laughed. At least, we did until the band arrived. Then we nearly collapsed. My mother later told me that she had never seen me go so white in the face. I could feel M trembling next to me too. We stood there as Francis Rossi and Rick Parfitt stared back, waiting for me to walk over to them. Finally, M pushed me in their direction and I had no choice but to continue walking. You can see my fear in these photos: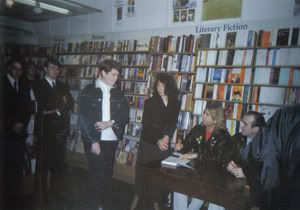 Holding onto myself tightly didn't help in the slightest (and that crazed female fan to the right of the picture was making me feel a little uneasy too). They obviously sensed my fear too, because they were lovely to me. They said how nice it was to see me, enquired if I enjoyed the show the night before and even asked if I had any other merchandise for them to sign (I didn't). I mumbled some answers to them and said something about how I had been a fan for years, but all my planned questions were out of the window. I certainly didn't have the courage to ask for an exclusive Alan Lancaster story.
M was even more nervous - you can just see him at the edge of this photo:
I think they said exactly the same thing to him and he managed to mumble some praise in their direction, but it was generally just a very overwhelming day. But we had achieved our ambition to meet our heroes and nothing could spoil it (not even the terrible service at Pillar's restaurant afterwards). And of course, it was all worth it:
To this day, when it comes to Quo, I have never topped that experience. I have seen them in concert over half a dozen times since, but nothing beats those two shows at Cardiff Ice Rink in the early '90s. Sure, it was quite good when a girl asked me if I wanted to see her tits at the 1996 Cardiff Arena gig. It was also hilarious to see M dancing with Steeleye Span's Maddy Prior during the
Don't Stop
tour. However, it will take a lot to surpass the nervous energy and immense excitement that was created on that December day in 1993 when we met the band.
I suppose the only downside of being a Status Quo fan is that you often get people making fun of your tastes. However, people
can
be converted. L made fun of me for years until she realised that she did actually like
Caroline
...and
Down Down
....and
Ol' Rag Blues
...